How to remove coffee stains from shoes?
If you spill coffee on your shoes and are wondering how to get rid of a stubborn stain, keep reading. Shoes can be expensive so, normally, we don't just want to throw them away when they have an unfortunate accident like this!
The good news is that coffee stains can be removed from leather or fabric shoes with a few simple ingredients. The brownish-colored liquid of your morning caffeine pick-me-up tends to leave unsightly marks on the surface of our footwear. While you may not know this, there are many ways to get rid of coffee stains on shoes.
Below are some home remedies that have been used in the past by our community to rid themselves of this troublesome stain. You may not be familiar with all these ingredients, but they probably sit around your house right now! If you don't want to make a trip out to the store, use one of these tricks for removing coffee stains from leather shoes.
coffee stains Cleaner from shoes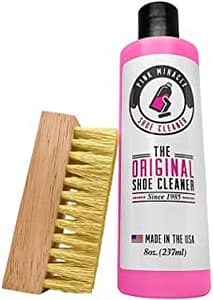 Pink Miracle Shoe Cleaner Kit 8 Oz. Bottle Fabric Cleaner for Leather, Whites, and Nubuck Sneakers

Sof Sole Instant Cleaner Foaming Stain Remover for Athletic Shoes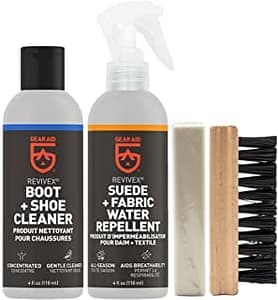 GEAR AID Revivex Suede, Nubuck and Fabric Boot and Shoe Care Kit with Protector Spray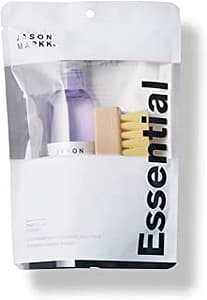 Jason Markk Shoe Cleaning Essentials

Folex Instant Carpet Spot Remover, 32oz
What You Will Need?
Coldwater.
Small cup or dish.
Distilled white vinegar.
Absorbent white paper towels.
Powdered laundry detergent.
A toothbrush or small nail brush.
Liquid laundry detergent with color-safe bleach.
Removing coffee stains from leather:
Leather shoes are a popular fashion accessory for men and women. However, the leather needs to be cared for to maintain its quality over time- whether you have black or brownish-colored footwear is irrelevant as these coffee stains can affect all types of shoes! you can effectively remove coffee stains from leather shoes by following these simple steps:
Grab a paper towel immediately and remove any excess liquid from your shoes.
Make a mixture of white vinegar and warm water in equal amounts.
Take a lint-free piece of cloth and wet it in this liquid.
Blot the stain with the cloth. Start from the edges of the stain and work towards the center. Don't rub the stain, as it may push the coffee stain deeper into the leather.
Keep dabbing until the stain is completely removed. You can re-wet the cloth if needed.
Dampen another lint-free cloth in water and dab on the area to remove any vinegar residue from the shoes.
Leave shoes to dry completely.
Removing coffee stains from suede shoes:
Suede is a type of leather with the softest and most delicate finish. If you spill coffee on your suede shoes, act fast because it can damage easily due to its low durability rate; treat them carefully for best results! Follow these steps on how to remove coffee stains from suede shoes:
Use a rag to dab the coffee gently (removing all excess). Keep blotting until you can't see any more coffee transferring to the cloth.
Wet a cloth in lukewarm water, and blot the stain with water.
Pour one tsp of mild dish soap in a bowl, add 2 cups of cool water, and mix.
Dip a rag in this mixture and dab onto the stain until completely removed.
Take a new clean piece of cloth, dip it in clean water, and remove any soap residue.
Take another dry rag and remove moisture from the shoe by dabbing.
If the coffee stain is still visible, we recommend mixing water and vinegar.
Dip a rag in this mixture and blot until you the stain has been completely lifted.
Rub gently, as vigorous movements can damage the suede.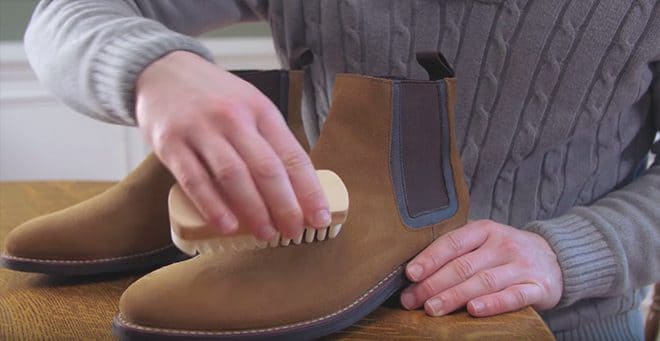 How to get coffee out of canvas shoes:
So, how do you remove coffee stains from white canvas shoes or converse? Yes, they are simple and comfortable but make sure that if the shoe is made of cotton it will absorb all those little pesky molecules very quickly. Follow these steps and find out how to get coffee out of white converse.
First, let the coffee stain dry completely.
Once dry, tap their soles together to get rid of any treads.
Grab an old toothbrush and scrape off any larger pieces of coffee from the shoes' creases.
Mix baking soda in water (in equal amounts) dip an old toothbrush into the mixture and massage gently onto the stain.
Mix laundry detergent or washing liquid and cold water, and remove the stain by performing circular movements with a toothbrush.
Rinse the shoes and repeat if needed.
Once you have removed the stains, you can wash these canvas shoes with your hands or put them in the washing machine.
Keep them in a well-ventilated area to let them dry.
You can also stuff them with a paper towel or cloths to sustain their shape.
How to prevent stains on shoes by material?
Cleaning your shoes becomes easier with the right products. For tough stains, protectors are a necessary step before going out in order to avoid dirty or stained leathers from being ruined by weather elements like rain and snow! A multi-purpose cleaner can also whiten any scuff marks on white trainers while keeping suede looking great through all seasons of wear – so it's always ready when needed most.
Shoe protectors are a must for your leather shoes. They will save the beautiful, expensive exterior from getting dirty or stained and you can use one of these before heading out to cover any scuffed areas on an otherwise pristine pair!
A multi-purpose shoe cleaner is a perfect solution for cleaning any type of material. Just a little water and some brush, as well as protecting your suede with an easy-to-use spray will keep this versatile product working overtime!
Leather is made of synthetic materials. Synthetic leather stains are simple to remove with a few wipes or soapy water, but if you want your shoes looking like new we recommend using professional shoe whitener!
If you're a coffee drinker, there are certain risks to take in life. One of those is spilling your favourite beverage and soaking said clothes with an unfortunate stain; thankfully these simple steps will help get rid of it until the laundry detergent has time (or energy) set soak properly!
Conclusion:
It should be noted that if a coffee stain is not removed promptly, it may be set and you will need to use more drastic measures. If the stains are fresh or have been left for an hour or two only, try dabbing them with salt first before using any other cleaning products. This can help remove some of the moisture from the fabric so your shoes don't continue absorbing liquid as you clean them. You can then wipe away the residue with a dry cloth until they're completely free of all traces of dirt and grime.